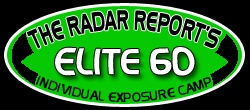 The Radar Report's Elite 60
Individual Showcase Camp

Sunday, October 28th 2012
10:30am - 3:30pm

Richmond Outreach Center
5501 Midlothian Turnpike
Richmond, VA 23225

If you have not been invited to attend this event, you need to email elite60@radarreport.net to request an invitation. This event is restricted to college level prospects and all campers have been seen by The Radar Report staff or referred to the staff by colleagues in the business.

Registration can either be done online or by mail. Registration will be limited to 60 players so that each player has the best possible opportunity for exposure and learning.

ONLINE REGISTRATION (click here)

MAIL-IN REGISTRATION (click here)
Special Guest Trainer
TBA.
©The Radar Report, LLC. All Rights Reserved.